We believe that confidence is the key to unlocking success and that learning should be fun – to this end we use the International Primary Curriculum and encourage our pupils to immerse themselves in all the experiences we provide.
We ensure all pupils in year 5 have the chance to learn to play a musical instrument, encourage learning beyond the classroom and actively participate in competitive sporting events.
Our Strap Line and Summary Statement: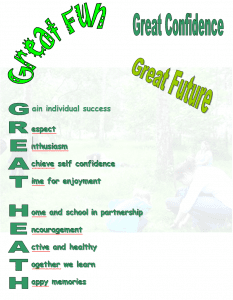 Above all we aim to ensure all our pupils leave us equipped with the skills, knowledge, understanding and character to make informed choices and to be successful in the next stage of their education and beyond.
This is encapsulated in our Motto – Great Hopes Achieved